Robert Harsell, a 68-year-old independent truck driver, arrives right on time to pick up 8,000 pounds of cookies for Starbucks. They're being sent to a warehouse in Henrietta, New York, 1,300 miles away. He has 51 hours to get there, and the clock is ticking.
"I like this load," he says. "It's light, and it pays good. But we don't have much time. Hopefully, they'll get us loaded up quick and we can start making miles."
But the warehouse manager says the load isn't ready. Harsell rubs his long, bushy beard and walks back to his 18-wheeler. The front unit, also called the "tractor," is a square-nosed 1989 blue Freightliner that hasn't been washed in years. It's pulling an old Dorsey refrigerated trailer, or "reefer," set to 65 degrees for the cookies.
The truck is also his home for most of the year, and he shares it with a 16-year-old mixed-breed rescue dog named Blackie. He picked her up on Christmas Day 15 years ago in Tucson, Arizona. At night, she curls up next to him in a small sleeping bunk behind the seats, among scattered wrenches, cables, oil containers, empty sardine cans, unwashed clothes and the other detritus of his hard-trucking nomadic life.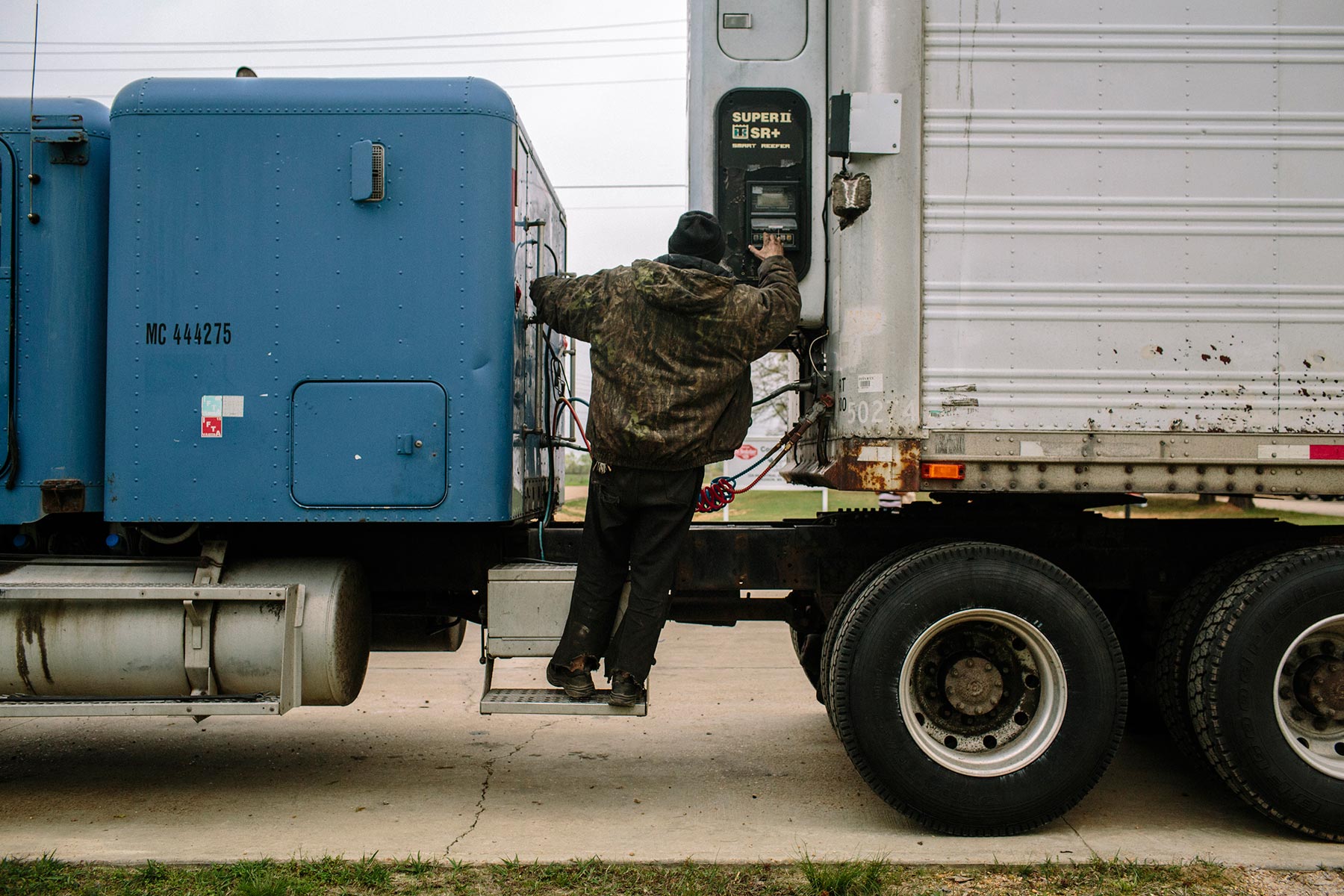 The warehouse workers are in no hurry. It doesn't cost them a dime to keep a trucker waiting. "It's going to be tough to deliver this load on time without breaking the hours-of-service regulations," says Harsell. "I'm safe, I'm reliable, I do a good job, and they want to turn me into an outlaw."
Harsell is one of 350,000 independent owner-operators hauling freight around the country in his own big rig. The other 90 percent of U.S. truckers — 3 million of them— lease their vehicles and driving services to a company or drive company trucks.
Like many independent truck drivers, Harsell feels like the deck is increasingly stacked against him. Unlike company drivers, independents have to pay for their own diesel, highway tolls, insurance, permits, repairs and maintenance, and these costs have been rising for decades, while the rates for transporting freight have remained relatively low. But nothing aggravates independent truckers more than thehours-of-service regulations imposed by the Federal Motor Carrier Safety Administration, or FMCSA.
"They're squeezing us out of a living, and in the name of safety they're making the highways more dangerous," says Harsell, echoing a widely held view.
The regulations allow truckers to be on duty for 14 consecutive hours, with a mandatory half-hour break. Within those 14 hours, they're permitted to drive for a maximum of 11. The other three hours allow for loading, unloading and eating. When the 11- or 14-hour limit is reached, they have to stop driving for 10 hours, and spend at least 8 hours in the sleeping berth. There are also limits on hours spent driving per week.
The federal hours-of-service regulations date back to 1938, apply to nearly all commercial vehicles and are intended to reduce accidents caused by driver fatigue. Highway-safety advocates attack them for being too lax and allowing truckers to drive when they're dangerously exhausted. American Trucking Associations saysthe regulations are too restrictive and cause excessive burdens on productivity. The Owner-Operator Independent Drivers Association, or OOIDA, an organization with more than 150,000 members, including Harsell, strongly opposes the regulations.
"The biggest problem is the lack of flexibility," he says. "I used to be able to pull off the road when I felt sleepy and drive when I felt good to drive. Now the feds are mandating when I have to sleep and for how long and when I have to drive and for how long. It's got nothing to do with when I actually feel sleepy and need to get off the road."
The regulations are pressuring truckers to make as many miles as possible in those 11 hours, says Harsell, especially the company drivers who get paid by the mile. "Drivers are out there racing the clock. They're taking fewer breaks and driving faster, especially in industrial areas. They're wagging those trailers around like a raccoon's tail."
Harsell slides back the tandem wheels on the trailer so it can better support the weight of the forklift and backs up to the loading dock. While the forklift driver stacks pallets of plastic-wrapped cookie boxes in his trailer, Harsell takes Blackie for a brief sniff-about in the cool spring sunshine.