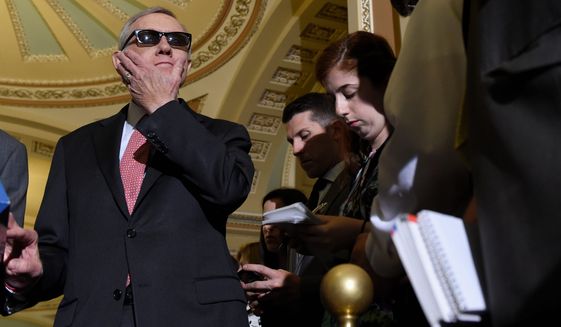 Senate Minority Leader
Harry Reid, a self-described "Clinton fan" who said a few months ago he was "glad" former Secretary of StateHillary Rodham Clinton had a "clear field" in the race for the 2016 Democratic presidential nomination, isn't quite ready to endorse Mrs. Clinton just yet.
Asked by a caller on KNPR radio whether he was supporting Mrs. Clinton or Sen. Bernie Sanders of Vermont, the Nevada Democrat
chuckled.
"Well, you know, there are a few other candidates — got [a] very fine governor from Massach- — Maryland, [Martin] O'Malley, who's been [to] Nevada lots of times," Mr. Reid said, quickly correcting himself on former Maryland Gov. Martin O'Malley's home state.
"I'm really a Clinton fan, but right now I have not endorsed anyone — I'm going to go to an event for Hillary in a few days, but I'll do my endorsement later," he said.
Mr. Reid, who is not seeking re-election
in 2016, said Mr. Sanders is "really a progressive guy, and that's an understatement, but he's also one of the nicest people I have in the Senate Democratic caucus. I like him a lot, but anyway, I'm more of a Clinton fan at this stage."
In May, Mr. Reid had told Telemundo and MSNBC anchor José Díaz-Balart: "Right now, we have Hillary Clinton and that's it."
"There's not another Barack Obama out there — there are no all-stars out there. She has a clear field, and I'm glad she does," he said.
At the time, Mr. Sanders, who Mr. Reid called a "great guy" in his interview with Mr. Diaz-Balart, had declared his 2016 candidacy on theDemocratic
side. Since that time, Mr. O'Malley, along with former Rhode Island Gov. Lincoln Chafee and former Sen. Jim Webb of Virginia have also entered the race for the Democratic nomination.
Read more: http://www.washingtontimes.com/news/2015/jul/13/harry-reid-self-described-clinton-fan-not-quite-re/#ixzz3fo1nTP4V
Follow us: @washtimes on Twitter
by