Star Wars spin-off Rogue One helps studio break sales record after triumphs including Finding Dory, Zootopia and Jungle Book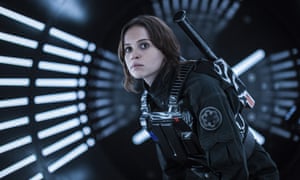 Disney has become the first film studio to take $7bn (£5.7bn) in global ticket sales in a year, with Star Wars spin-off Rogue One joining the hit factory production line alongside Marvel superheroes and animated children's movies.
With Rogue One: A Star Wars Story, the spin-off tale of the mission to steal the plans for the Death Star, taking almost $300m (£323m) globally on its opening weekend, Disney has easily shot past the previous $6.9bn annual ticket sales record set by rival Universal last year with hits including Jurassic World and Furious 7.
With almost two weeks of the year left, the momentum generated by the most famous sci-fi franchise in the world and the popularity of the studio's animated film Moana ($282m and counting) is likely to push Disney's overall takings closer to $8bn.
Disney has already released the four top-grossing films of the year so far with Captain America: Civil War, Finding Dory and Zootopia taking more than $1bn at the global box office, while a live-action version of The Jungle Book fell just short. Doctor Strange, starring Benedict Cumberbatch, released in November, has made more t