President Trump begins overhaul as first executive orders signed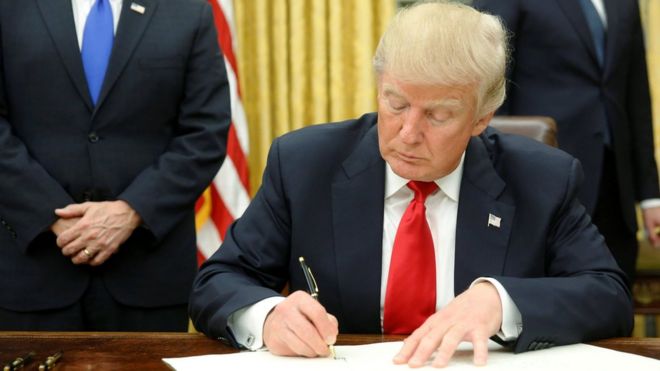 Donald Trump has taken his first steps as president, signing an executive order which targets the signature health care reforms of his predecessor.
His proclamation ordered agencies to ease the economic burden of the laws known as Obamacare.
In Friday's inaugural address he pledged to put "America first" and to end the "American carnage" of abandoned factories and rampant crime.
Later, about 200,000 people are due to join a Women's March in Washington.
Organisers say they want to highlight racial and gender equality and other issues perceived to be under threat from Mr Trump's administration.
Similar marches are already taking place in Australia and New Zealand and many others are planned around the world.
BBC Washington correspondent Barbara Plett-Usher says Mr Trump has vowed to do what he can immediately using executive action, chalking up early victories before he has to turn to the grinding work of getting bills through Congress.
His team quickly overhauled the White House website to include his pledge to roll back Barack Obama's strategy on climate change.
Shortly after taking office as the 45th US president, Mr Trump sent his Cabinet nominations to the Senate.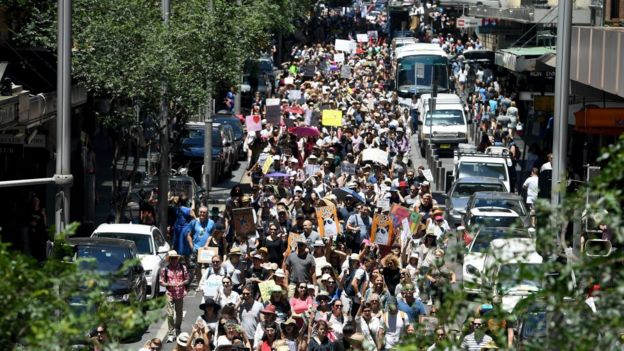 He signed a waiver to allow retired General James Mattis to serve as defence secretary, even though he left the military less than the required seven years ago.
Gen Mattis, whose appointment has been approved by the Senate, was later sworn in by Vice-President Mike Pence.
Mr Pence also swore in John Kelly as head of Homeland Security.