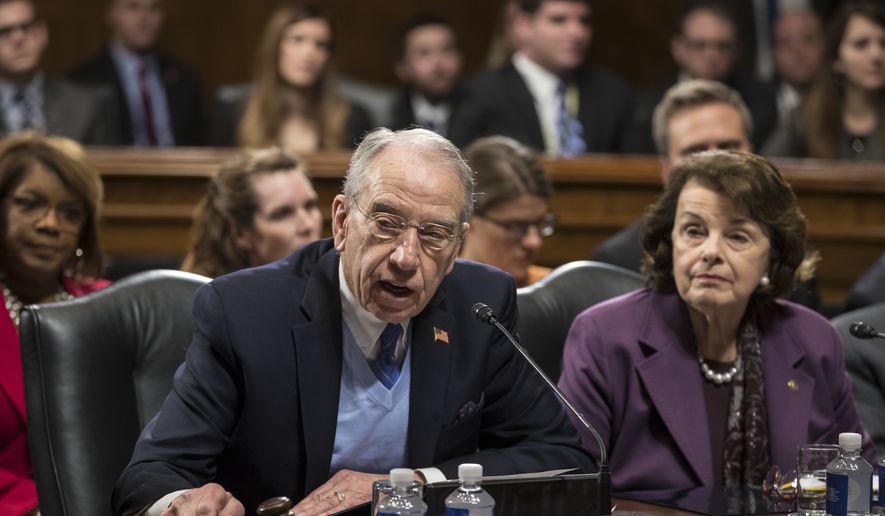 By Alex Swoyer
- The Washington Times - Friday, February 3, 2017
The senator in charge of the confirmation process for President Trump's Supreme Court nominee says he wants to have Judge Neil Gorsuch on the high court by Easter, laying out a speedy schedule that's likely to meet resistance from Democrats.
Senate Judiciary Committee Chairman Charles E. Grassley told Roll Call he is optimistic about working with Sen. Dianne Feinstein, the ranking Democrat on the committee, on Judge Gorsuch's confirmation over the next six weeks.
"Every conversation that I've had with her now that she's ranking member has been not only friendly, but has been productive, and these little heads-to-heads that you see us having when the committee's actually functioning, work things out right then," Mr. Grassley told the paper. "I hope she would tell you that I have accommodated her."
According to Roll Call, Ms. Feinstein is scheduled to meet with Judge Gorsuch on Monday, as the Supreme Court nominee has been making rounds at the Capitol, meeting with senators following his formal nomination on Tuesday.
Republicans and Democrats alike praise the appellate judge for his legal credentials, but liberal advocacy groups are demanding Democrats throw up roadblocks, saying the judge would threaten their ideological causes if he is allowed to take the seat left vacant by the death of Justice Antonin Scalia.
Democratic leaders have already said they will filibuster the nomination, leaving Republicans to face the decision about whether or not to change the Senate rule that requires 60 votes to confirm a Supreme Court nominee — the so-called "nuclear option."
If enough Democrats back Judge Gorsuch, that question would be moot.
West Virginia Republican Sen. Shelley Capito, who has already met with Judge Gorsuch, said she hopes Democrats will give him a fair shake.
"He's a done deal in my book, but I think the process has to move forward," Ms. Capito said. "We're going to have a couple weeks to figure that one out."
Arizona Republican Sen. John McCain told The Washington Times he doesn't yet know if Judge Gorsuch has the 60 votes needed to be confirmed, but Oklahoma Republican Sen. James Lankford is more confident.
Mr. Lankford said Judge Gorsuch had unanimous bipartisan support in 2006 for his seat on the U.S. Circuit Court of Appeals for the 10th Circuit.
When asked if Republicans will need to go nuclear, Mr. Lankford said, "No. We'll get our person."
Click to Read More
{% if modal_settings.enabled or "enable-modal" in request.GET or "show-modal" in request.GET
by