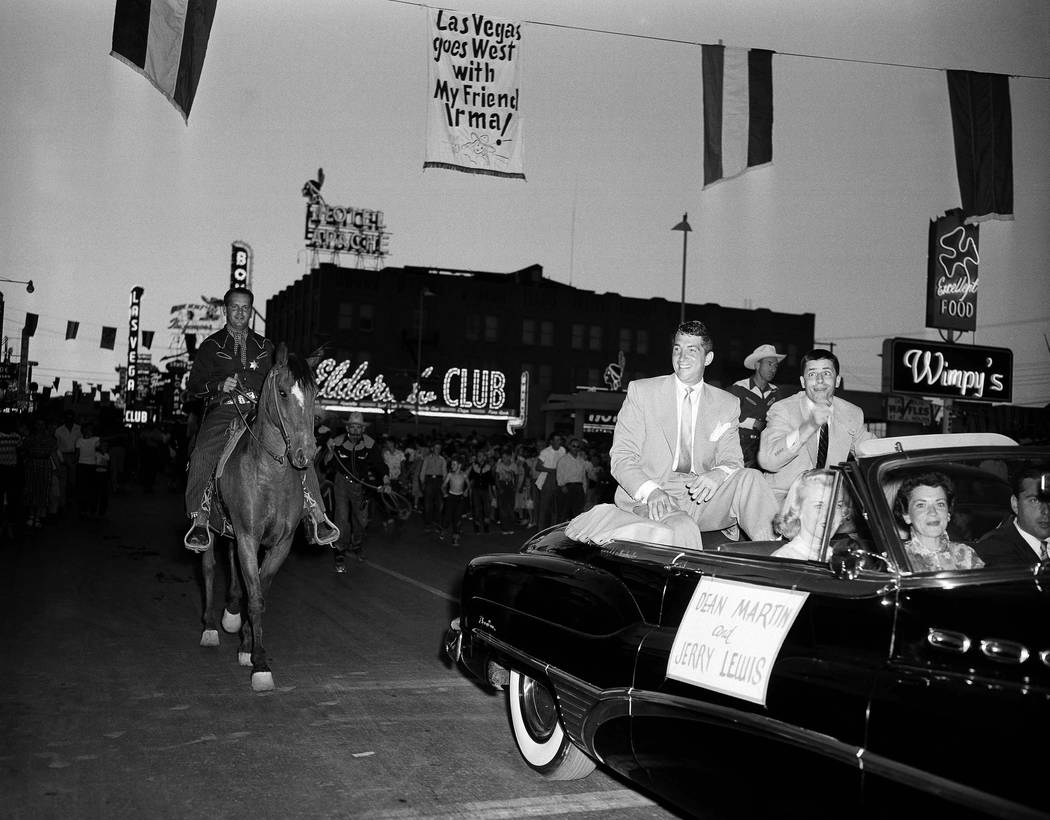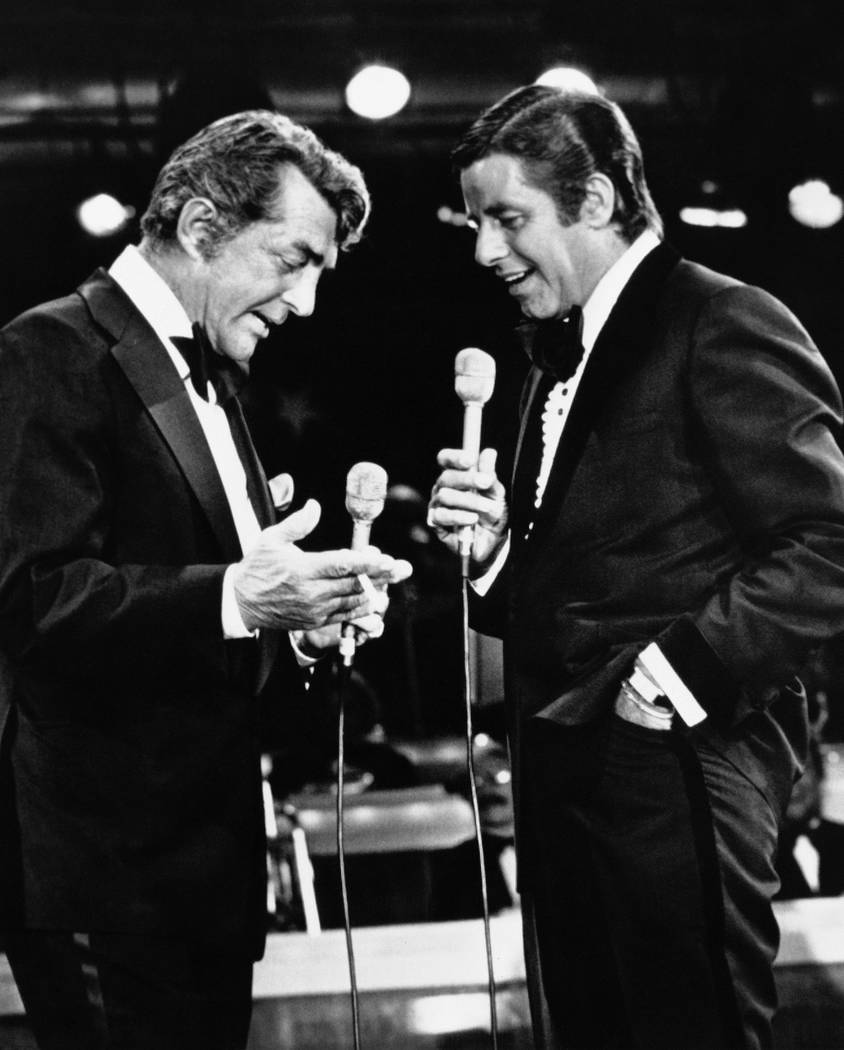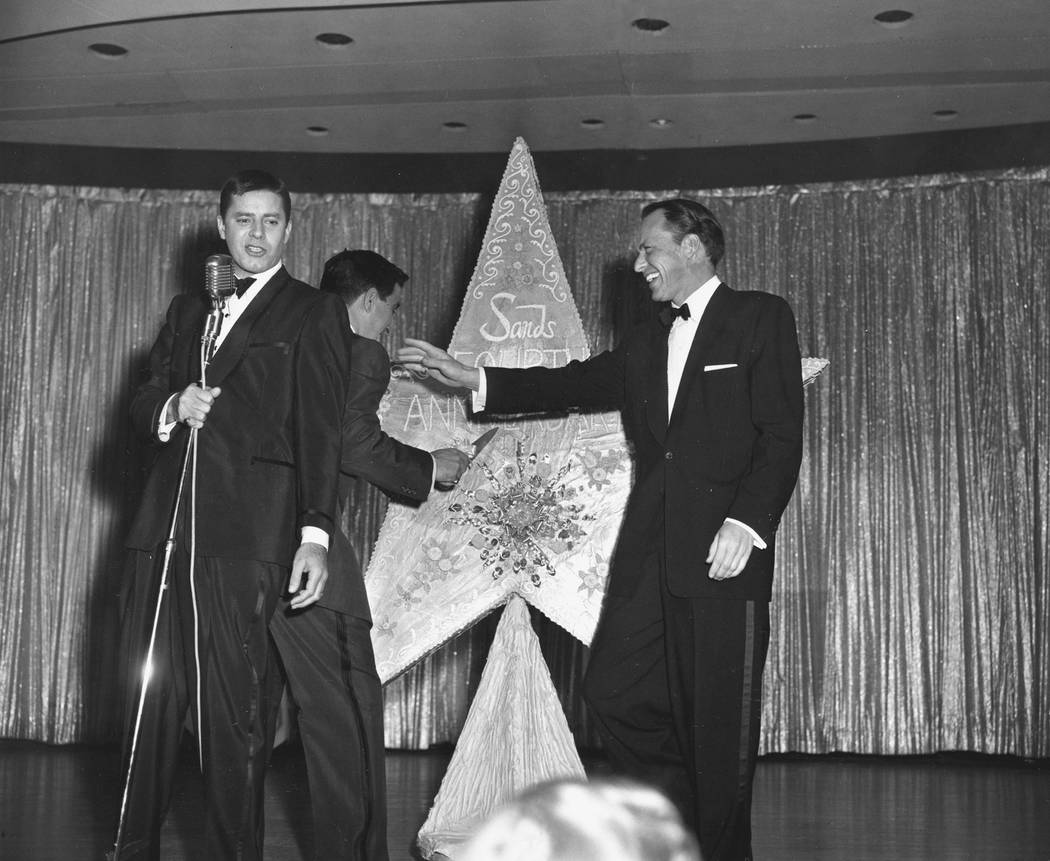 August 20, 2017 – 11:19 am
Updated August 20, 2017 – 4:12 pm
Entertainment legend Jerry Lewis died Sunday morning at his home in Las Vegas. He was 91.
His family confirmed his death: "Famed comedian, actor and legendary entertainer Jerry Lewis passed away peacefully today of natural causes at 91 at his home in Las Vegas with his family by his side." According to the family, Lewis died at 9:15 a.m.
Lewis, who performed in Las Vegas with Rat Packers Frank Sinatra, Dean Martin and Sammy Davis Jr. and many others, also famously became a spokesman for the Muscular Dystrophy Association, a charity for which he raised vast sums of money. The telethons started in 1966; they raised some $2.6 billion, according to People magazine. The children suffering from the disease, who benefited from the telethon, became known as "Jerry's Kids."
Lewis was born Joseph Levitch on March 16, 1926, in Newark, New Jersey. He was the son of entertainers — Danny Levitch, a song-and-dance man, and Rae Levitch, a pianist; they performed with the surname Lewis during vaudeville acts. Rae lived in Las Vegas for eight years and is buried in Palm Valley View Cemetery.
In 1946, Lewis co-starred in a nightclub act with Martin, rising to meteoric fame. In the act, Martin was calm, singing unflappably; Lewis was jittery, scampering manically. After pratfalls, Lewis would utter his trademark line, "Hey, lay-dee!"
Powerful pairing
Lewis and Martin landed major gigs at New York's Copacabana and Roxy Theater and Atlantic City's 500 Club. In the 1940s and 1950s, the pair combined on movies including "Pardners," (1956) "The Stooge" (1951) and "My Friend Irma," (1949) and "The Caddy" (1953). On television, they co-hosted "The Colgate Comedy Hour" from 1950 to 1955 on NBC.
Lewis' love for Martin, whom he called "my partner." was undeniable. Lewis said he often dreamed of he and Martin onstage performing, and named one of his dogs "Paulie," after Martin; Martin's middle name was Paul.
"This is the end of an era for me personally, and for millions of people around the world," said Deana Martin, Dean Martin's daughter who considered Lewis a family member, often calling him as "Uncle Jerry."
"The night I was born, he and my dad were performing at Slapsy Maxie's in L.A., so I have known Jerry all my life. He could be tough, but he was always so giving and sweet to me."
Lewis broke with Martin in 1956 and wrote, directed and starred in movies. Lewis acted in dozens of movies, including "The Sad Sack" (1957), "The Ladies Man" (1961), and famously "The Bellboy" (1960) and "The Nutty Professor" (1963).
He was featured in Martin Scorsese's "King of Comedy" (1982) and starred as himself in Billy Crystal's "Mr. Saturday Night" (1992). On Broadway, he starred in the 1995 revival of "Damn Yankees," playing Mr. Applegate, the Devil; he joined the production on an international tour.
U.S. Rep. Les Aspin, D-Wis., nominated Lewis for the Nobel Peace Prize in 1977 for his work with the Muscular Dystrophy Association. In 2009, Lewis received the Jean Hersholt Humanitarian Award for his charitable work.
Lewis has two stars on the Hollywood Walk of Fame, one for movies, one for television. The Library of Congress acquired Lewis' personal archives in 2015.
Beyond America, the French government inducted Lewis into the French Legion of Honor (1984) and named him Commander of the Order of Arts and Letters for his movie work (2006).
During the 1976 MDA telethon, Frank Sinatra staged an on-air reunion between Lewis and Martin. The pair wouldn't perform together again until June 1989, when Lewis surprised Martin by bringing him a birthday cake onstage at Bally's for the singer's 72nd birthday.
"Here's to 72 years of joy you've given the world, and why we broke up, I'll never know," Lewis told Martin then.
Magician Penn Jillete, who has succeeded with a seemingly odd-fitting co-star, Teller, as Martin and Lewis did, said Lewis demonstrated the power of the right pairing.
"On the surface, they were two people who did not belong together, a handsome guy teaming with a comic outcast, but they absolutely belonged together," Jillette said Sunday. "They had a powerful, powerful bond, and showed that art could be demonstrated between two people. Studying Martin and Lewis certainly changed my life."
Coming back together
In the mid-1980s, longtime Las Vegas headliner Clint Holmes and his music director Bill Fayne joined Lewis and Tom Jones at a performance by Sammy Davis Jr. at the Diplomat Hotel in Miami Beach, Florida. Lewis and Davis hadn't spoken for years; powerhouse producer Ben Segal arranged the reunion.
"Jerry took photos of the show, from beginning to end," said Holmes, as Lewis was an avid photographer. "Finally, Sammy brought him up onstage, where they had a very long hug, reunited, and sang 'Rock-a-bye Your Baby with a Dixie Melody' (a top 10 Billboard hit for Lewis in 1956). That great night ended with Sammy cooking us all breakfast in his hotel suite."
In 1988, Lewis and Davis co-headlined at Bally's Celebrity Room, a