Australian floods send dirty water across Great Barrier Reef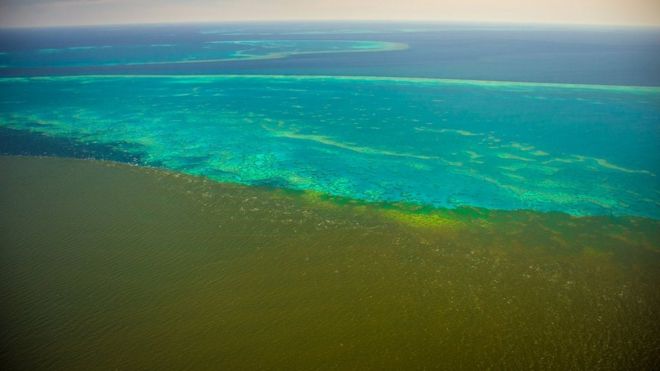 Dirty water from a flood crisis in northern Australia has spread to parts of the Great Barrier Reef, placing it under stress, scientists say.
The floods are the result of weeks of devastating rain in Queensland.
Aerial pictures show that run-off from one river has blanketed some reef areas more than 60km (37 miles) from shore.
Scientists fear the sediment-laden waters may be blocking out light and effectively "smothering" coral. Tests are yet to be undertaken.
The Great Barrier Reef, located in the Coral Sea off the coast of Queensland, is a diverse World Heritage site that spans an area of 344,400 sq km (133,000 sq mi).
In recent weeks, run-off from several rivers has coalesced to affect an approximately 600km stretch of the reef's outer edges, scientists say.
The water has not dispersed due to its size and a recent lack of wind.