Atmospheric River Is Pummeling California's Sierra With Feet of Snow, Topping February Records
less than an hour ago
weather.com
Volume 90% 01:14
Guerneville, CA Cut Off By Flooding as Rivers Grow to Major Flood Stage
California rivers are in major flood stage in the San Francisco Bay Area causing flooding that is cutting off some towns.
At a Glance
Another atmospheric river event is pounding California with feet of snow in the Sierra.
February snow records are falling in the Sierra.
The combination of this, plus high winds, is shutting down travel in the Sierra.
Heavy rain is also triggering flooding, mudslides and rockslides in Northern California.
High winds are also pounding the Sierra crest and areas downwind, including Reno, Nevada.
Another atmospheric river event is pummeling California with feet of snow in the Sierra Nevada Mountains, shattering February snow records at some ski resorts while also triggering flooding, rockslides and mudslides in lower elevations.
Happening Now
Heavy snow continues to pound the Sierra, generally above 5,000 feet, while rain persists in the lower elevations of Northern California.
Gusty winds are also expected into this evening in some locations.
(INTERACTIVE: Current Radar/Satellite Loop)
Tuesday night into early Wednesday, numerous roadways were flooded in Northern California, including the Bay area. Several mudslides and rockslides were also reported, as were downed trees and power lines.
Venado, California, measured 20.48 inches of rainfall through early Wednesday.
(LATEST: Flooding, Mudslides, Travel Impacts)
As of Wednesday morning, 55 inches of snow fell in Boreal, with 54 inches at Sugar Bowl Ski.
The combination of heavy snow and high winds prompted Interstate 80 to shut down overnight Monday night into Tuesday.
Several other routes into the Sierra were shut down Tuesday as well, according to Caltrans.Interstate 80 at Donner Lake Interchange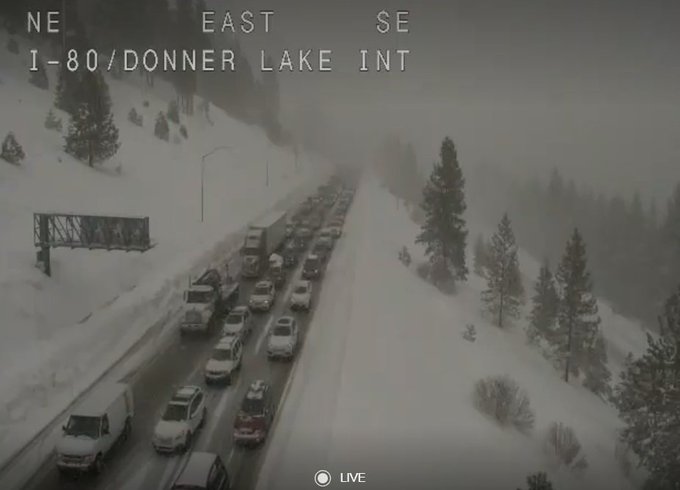 Caltrans District 3@CaltransDist3
Traffic on Interstate 80 is now CLOSED from the Nevada state line to Colfax due to traction control issues, multiple spinouts. No ETO. @CHP_Truckee @CHPAuburn651:12 PM – Feb 26, 201974 people are talking about thisTwitter Ads info and privacy
Many Sierra ski locations reported at least a foot of snow in 24 hours ending Tuesday morning. Caltrans reported 40 inches of snow had fallen in 24 hours at Donner Pass.
Despite all the snow, it was too windy to ski at some Sierra resorts. Lifts were on hold at Mammoth Mountain, and some lifts were closed Monday at Heavenly.
Strong winds have also been blasting parts of Northern California and Nevada. Winds gusted between 50 and 60 mph in Reno, Nevada, on Tuesday.
Rain soaked the lower elevations of Northern California on Tuesda