France, Italy and Spain prepare to ease coronavirus lockdowns
Several other EU countries have already announced a tentative easing of restrictions
Oliver Holmes, Sam Jones in Madrid, and Jason Burke in Johannesburg
Sun 26 Apr 2020 09.52 EDTLast modified on Sun 26 Apr 2020 13.12 EDT
Shares102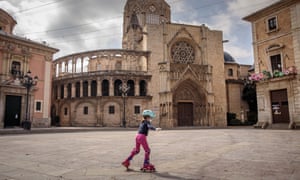 France, Italy and Spain are preparing to loosen coronavirus restrictions, with other countries watching closely to see how some of the first and hardest-hit countries in Europe might safely emerge from their crippling lockdowns.
After the US, where the number of infections is heading towards the 1m mark, with more than 53,000 deaths, the three countries have the highest numbers of confirmed cases of Covid-19 in the world, according to Johns Hopkins University.
The global death toll from the coronavirus pandemic passed 200,000 on Saturday, with more than 2.9m confirmed cases, rising rapidly in many countries but slowing in others because of lockdowns.
Decisions on how and when to reopen will be vital to how people and businesses can cope with the pandemic, balancing the need for economies to restart with the risks of new outbreaks and further shutdowns.
In Italy, which was the first European country to impose a lockdown in March, and where there have so far been close to 200,000 infections and at least 26,384 deaths, Giuseppe Conte said manufacturing could restart as soon as 4 May.
The Italian prime minister said schools, however, would not reopen until September. Measures would be announced early this week, he told Italian daily La Repubblica.
Tight lockdowns have been seen as a blunt but effective tool to halt infections until a vaccine is developed.
Some countries have imposed less restrictive measures, for example Sweden, where shops, restaurants and junior schools have stayed open. Possibly as a result, Sweden's death rate from Covid-19 is nearly 200 per million people, compared with 31 per million in neighbouring Fin